As a devoted fan and volunteer at Agassiz Speedway, 79-year old Ken Barrett has seen the occasional car crash over the years. But the worst wreck was away from the track, when a car t-boned his vehicle as Ken was crossing an intersection in Surrey. His traumatic injuries led to three surgeries in less than three weeks at Royal Columbian Hospital, including a fairly new procedure to fix severely broken ribs with titanium plates.
"I don't remember anything," says Ken about the April 2017 crash. "I wasn't aware of anything for the next month or more."
He was placed on a ventilator in the hospital's Intensive Care Unit as surgeons worked on his injuries. First he underwent a lower back surgery, followed by one on his cervical spine. But his broken ribs were making it difficult to get him off the ventilator. The solution was rib fixation surgery.
"We don't need to fix every broken rib out there," notes Royal Columbian trauma surgeon Dr. Sue Sidhu. "A lot of ribs will just heal on their own without surgery. But when the ribs are broken in multiple spots, multiple ribs, that's commonly referred to as flail chest. That is one population of people that can be helped by this surgery."
Within Fraser Health, the surgery has been available for about a decade. Specially-designed titanium plates are attached to the ribs, where they stay permanently. A day after his surgery, Ken was able to be moved out of the Intensive Care Unit.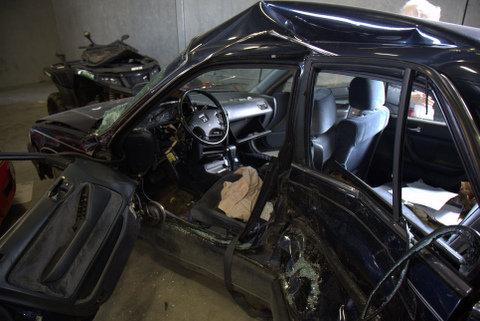 Helping patients get off ventilators is one of the main benefits of the surgery. But even if a patient is not in respiratory distress, rib fixation may assist.
"A benefit of the surgery is to reduce the long term complications of chronic pain," explains Dr. Sidhu. "We'll do the surgery, and some people will notice immediately after the surgery that they feel better. The pain is less and they feel significantly better."
Six months after his crash, Ken says he rarely thinks about his titanium-reinforced ribs.
"There isn't any discomfort from it or any limitations physically from it," he says. "The type of care I was given, right from the accident scene, probably contributed to the fact that I am still here."
Make a difference for emergency patients like Ken. Provide support for our caregivers when the moment is critical.