Jeff Palmer was feeling good on the first day of the annual Cops for Cancer fundraising ride in 2015. The West Vancouver police officer had chatted with students at a Burnaby elementary school before he headed back out on the road with other members of his cycling team. But shortly thereafter, he started feeling lightheaded. Just as he thought about telling nearby paramedics, his heart stopped.
First responders tend to Cst. Jeff Palmer after he suffered a cardiac arrest during a fundraising bike ride.
"I was thinking I need to angle my bike to the side of the road and think about what I am going to do, and boom, lights out," recalls Cst. Palmer.
Quick action by the paramedics, including the use of defibrillators, kept him alive as he was rushed to Royal Columbian Hospital. By the time he was stabilized in the cardiac catheterization lab, Cst. Palmer had survived multiple cardiac arrests. He had two stents implanted by the cath lab team that day. Once he was initially stabilized, he had three more stents a few days later.
"I was so very fortunate," says Cst. Palmer. "I can't begin to express how grateful I am."
Cst. Palmer's near-fatal cardiac arrest is an example of the kind of emergency that can come through the doors of Royal Columbian at all hours. The hospital performs incredibly well in these situations, according to a 2017 published report that looks at cardiac care across the country.
Data was compiled from 38 cardiac care centres in Canada and published for the first time ever by the Canadian Institute for Health Information. The numbers show Royal Columbian Hospital stands out for survival rates while being one of the busiest in Canada with the highest proportion of seriously ill patients.
The comparison confirms that Royal Columbian performs the most angioplasties in the province and is fourth in the country. The hospital also has the highest proportion of high-risk cases, defined as those patients who suffered cardiac arrest or were shocked before being treated by the cardiac care team.
While being among the country's busiest cardiac centres, the hospital is also one of only two centres in the country with a significantly lower than average 30-day in-hospital mortality rate after angioplasty. For bypass surgery, the hospital is one of only four centres in the country with a significantly lower than average 30-day in-hospital mortality rate.
"The outcomes that we're getting are outstanding," says Dr. Gerald Simkus, an interventional cardiologist at Royal Columbian Hospital who is also the medical director for cardiac sciences in the Fraser Health region. "We have a superb team, highly-dedicated staff. It's very satisfying to take people who are sick, in pain and dying, and literally save their lives."
Since his cardiac arrests, Cst. Palmer has returned to work and once again represents his department during Cops for Cancer. On the first anniversary of his medical emergency, he returned to Royal Columbian to thank the team that helped him stay alive.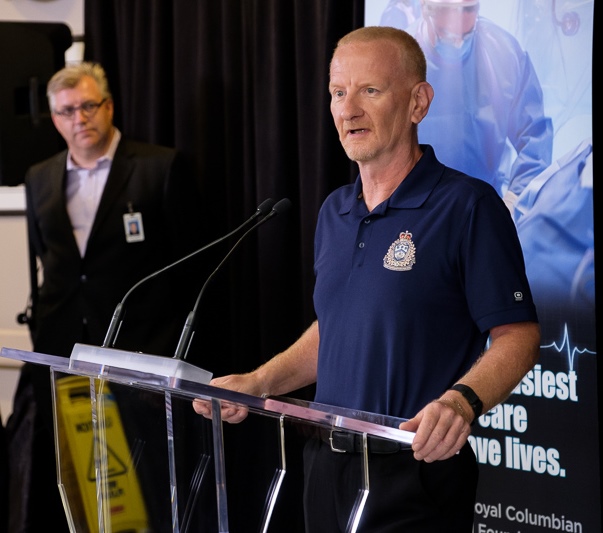 A year after his medical emergency, Cst. Jeff Palmer speaks to the media, as interventional cardiologist Dr. Roger Philipp looks on.
"In policing, we are already very aware of how quickly life can be taken away," he says. "There were a lot of little but very important things that went right for me. Paramedics are on me right away. The advance life support car keeps me going until I get to the cath lab, and it just boggles my mind that the cath lab could have you stable and conscious, planning your recovery within a matter of hours from the time you were pulseless on a city street."
Make a difference for emergency patients like Jeff. Provide support for our ER & cardiac teams when the moment is critical.