The Redevelopment of Royal Columbian Hospital
A $1.49 billion multi-phase, multi-year transformation of Royal Columbian Hospital is underway. Our vision is to create a world-class hospital: a state-of-the art facility that provides uncompromising care and remarkable patient experiences.
We are proud of our role as a major critical care hospital, serving a population equal to a third of British Columbians. No other centre in BC offers our scope of services, delivered at such a high level. That's why redevelopment at Royal Columbian is such an important project.
Join us by making your donation today
Donate
Bmo is Helping to Shine a Light On Mental Health
Royal Columbian Hospital Foundation is pleased to recognize BMO Financial Group's leadership role in our redevelopment fundraising campaign.
Their $1 million donation in support of mental health has helped to transform how critical care is delivered in BC, and ensure patients have the exceptional care they deserve.
The new Mental Health and Substance Use Wellness Centre, which was completed and opened in 2020, provides a significant opportunity for groundbreaking research, increased psychiatric training and state-of-the-art patient care. Royal Columbian Hospital Foundation has supported this mental health centre with $9.1 million from our generous donors.
Join us by making your donation today
Donate
Mental Health Facility Video Tour
When an emergency happens, every single second counts. A senior suffering a stroke, arriving unconscious at hospital. An accident victim, gravely injured and rushed here by Air Ambulance. A woman in labour and cardiac arrest, with two lives now in the balance.
The big picture
In the year
1862
30 patient beds
1 doctor
From its humble beginnings in 1862, with just 30 patient beds and one doctor, Royal Columbian grew to become the province's indispensable leader in critical care, serving more than 1.8 million residents of the province.
In the year
2017
446 patient beds
3,327 employees
Now, our hospital is set to make healthcare history once again, as Redevelopment positions Royal Columbian to revolutionize critical care in BC. When the multi-year project is complete, our hospital will be fully transformed, and ready to cope with the needs of a fast-growing, dramatically aging and increasingly diverse 21st-century population.
Our hospital generates nearly
$500M
for the province's economy
Fuelled by BC's single largest healthcare investment ever, a fully redeveloped Royal Columbian is poised to play an even more robust role in our collective prosperity.
Over the last decade, our hospital has generated the equivalent of
32.9K
full-time jobs
By dramatically increasing critical care capacity for a fast-growing population, Redevelopment will add hundreds of new jobs for doctors, nurses, support staff and construction-related workers.
Phase One: Mental Health Expansion (2016-2020)
Budgeted at $258.9 million, phase one begins the hospital's transformation and includes:
A new 75-bed mental health and substance use wellness centre with new and expanded outpatient clinics, Fraser Health's first older adult psychiatric unit, and a psychiatric high acuity unit, all to replace the aging 30-bed Sherbrooke Centre
A new energy centre to replace the aging power plant and tie into the city's future district energy centre
New parking, including a 400+ stall underground parkade plus a temporarily expanded visitor lot onsite, and a temporary offsite lot for employees
Moving the heliport to Columbia Tower's roof, away from future construction cranes
An advanced IT fibre optic and utilities pathway that ties into city infrastructure and enables advanced health care technologies.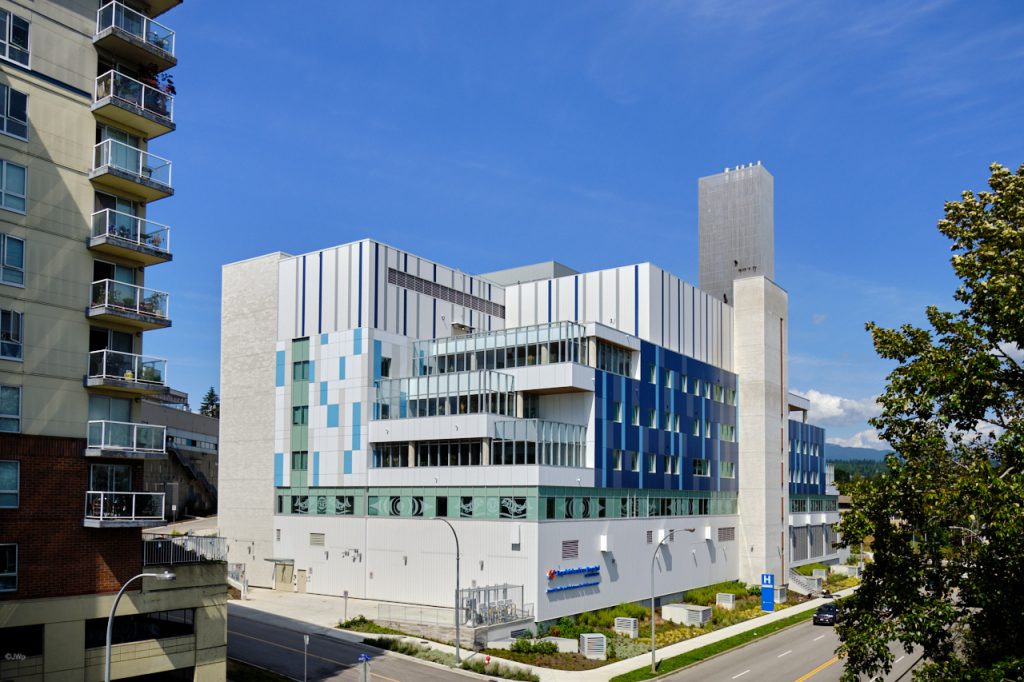 Phase Two: Acute Care Tower (2020-2025)
By the end of phase two, the hospital will have added 50 per cent more beds, from 446 to 675. Phase two will include:
A new Acute Care Tower with:

More beds for intensive care, cardiac intensive care, medicine and surgical patients, all in single-patient private rooms
A new, larger Emergency department with a satellite medical imaging unit
More operating rooms & more interventional suites for cardiology and interventional radiology
More maternity beds and one more maternity operating room.
Expansion of the pediatric unit & the neonatal intensive care unit.
A 400+ stall underground parkade, a new main entrance and a rooftop helipad

New advanced medical equipment and technologies, building services (e.g mechanical and electrical) and energy centre equipment
Replacement of the aging Sherbrooke Centre, old power plant, main entrance and laundry/maintenance buildings with site enhancements.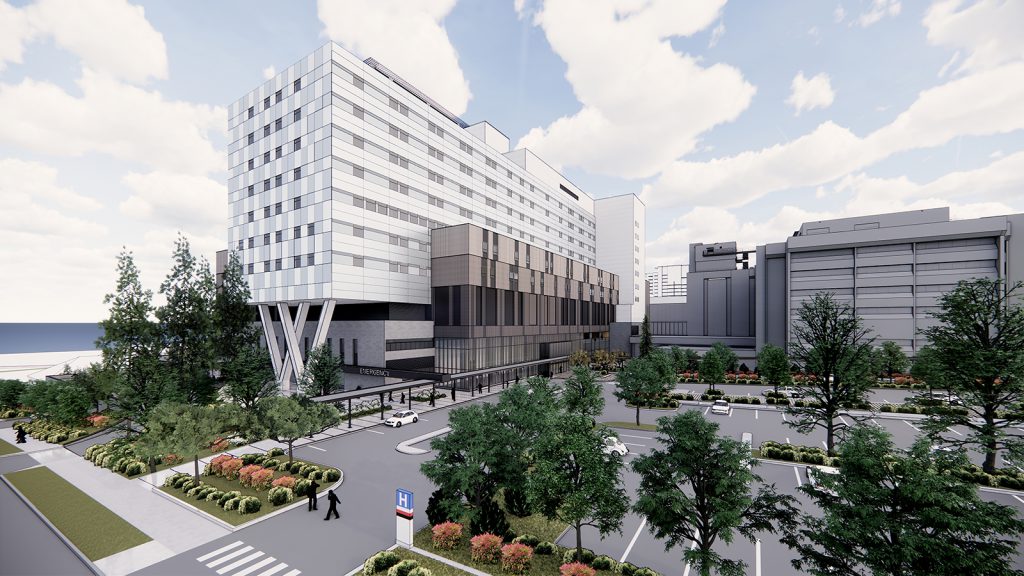 Phase Three: Expanding Capacity (2023-2026)
Phase three will upgrade and add capacity to areas in the existing Health Care Centre and Columbia Tower that support the beds and services added in phase two. This includes:
Expansion of support service areas such as the laboratory, pharmacy, food services, diagnostic services and medical imaging, and the addition of one more MRI
Conversion of four-bed patient rooms in Columbia Tower into single or semi-private rooms
Upgrade and move the cafeteria, administration offices and ambulatory care services.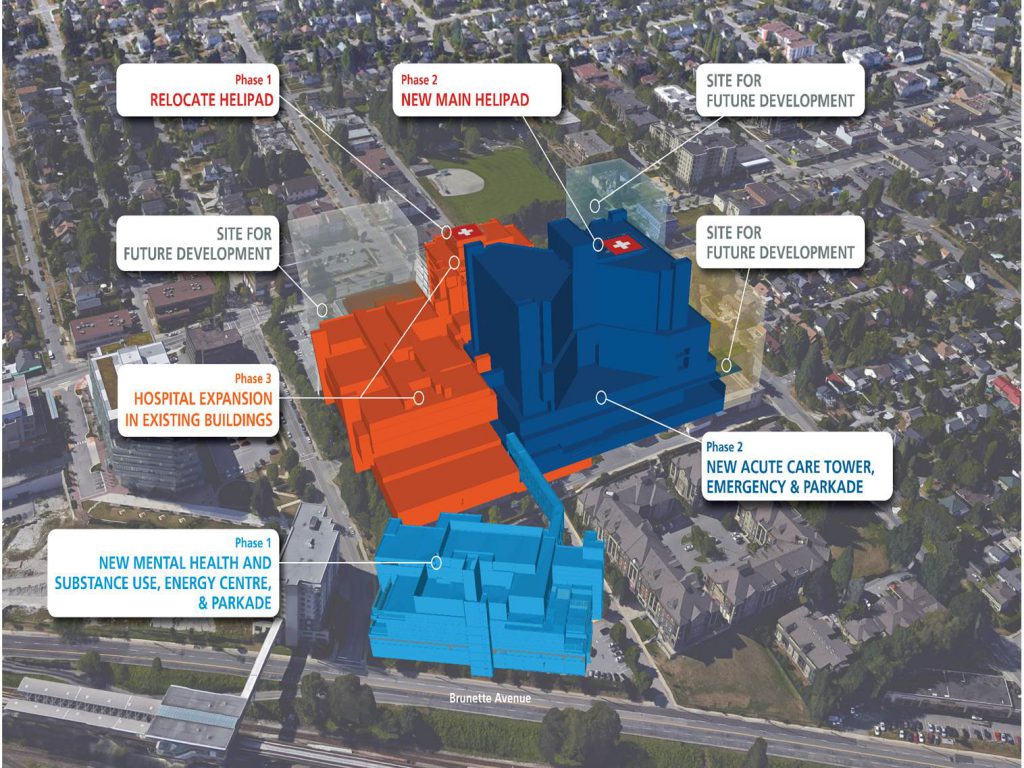 By the Numbers
0
A new Acute Care Tower, helping increase our total beds by 50%, will be equipped to provide highly sophisticated critical care technologies and treatments.
0

%
Almost three-quarters of the beds will be in single-patient rooms for better recovery and comfort.
0

%
In 20% of rooms, adaptable beds will meet a range of different patient care requirements.
0
A larger Emergency department, with 75 state-of-the art treatment bays, four trauma bays, and a new and expanded satellite Medical Imaging area (housing a CT scanner, ultrasound and two radiology rooms) will speed up admission and treatment.
By 2030, the key population our hospital serves will grow by an estimated
36%
to an astonishing 2.2 million. It will be markedly older, dominated by people over age 80, the fastest growing segment of British Columbians.