On the night of December 18th, 2016, Alain Champagne was getting ready for bed when his wife Marion Bonner heard a loud thump. She bolted up the stairs to check on Alain. She found him slumped against a dresser, having a seizure.
Marion called 911 and paramedics arrived at their New Westminster home quickly. Alain was taken in an Advanced Life Support Ambulance directly to Royal Columbian, where, Marion recalls, he was immediately whisked away for tests.
The first doctor Marion remembers speaking with was Emergency Physician Dr. Petr Balcar. "He was very nice," says Marion. "He sat me down and explained everything, what they were going to do."
Tests confirmed that Alain had suffered a left frontal intraparenchymal hemorrhage (IPH), a sudden bleeding into the tissues of the brain. The bleeding and related swelling puts extreme pressure on brain tissue and cuts off blood supply to the brain. It can lead to permanent neurological dysfunction, and is often fatal.
Marion learned they were taking Alain to the Intensive Care Unit, where he would be intubated and put in a medically induced coma. "They asked me if there was anyone I could call," says Marion. "They said you don't want to be here by yourself."
That's when the gravity of the situation sunk in. "I was in shock. I wasn't quite realizing what was going on."
Over the next few days, Alain's care team worked to reduce the intracranial pressure and get his seizures under control. Marion was struck by the level of care he received. "They shaved him. They would do physio with him, to move his arms and legs. They were just amazing," she says.
By December 23rd, remarkably, Marion was able to take Alain home. By March, the bleeding had been completely absorbed by his body.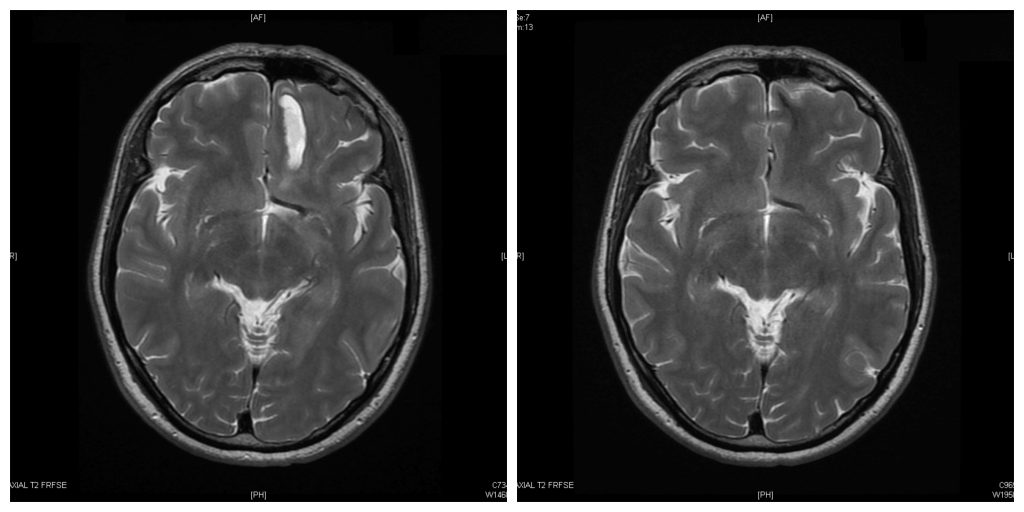 CT scan showing Alain's brain bleed, and three months later.
After his hospital stay, doctors told Alain his chances had been 50/50. "When I heard that and looked at the information related to the condition, and the fact that I was able to walk out of the ICU and not have any long-lasting effects… I feel so fortunate, so lucky," he says.
To express his gratitude and appreciation for the excellent care he received, Alain decided to leave a gift in his Will to Royal Columbian Hospital Foundation.
He remarks, "It's our neighbourhood hospital. It's part of our community. You drive by and you don't realize, but when it's an emergency and you need them, they are right on it. The service is second to none."
Curious how you too could make a Legacy gift?
LEARN MORE
Prefer to give now?
Consider committing to a monthly gift
MONTHLY GIVING
Connect With Us
Catherine Cornish, CFRE
Director, Leadership and Legacy Giving
Phone: 604.970.5931
Email: Catherine.cornish@fraserhealth.ca